The view from the lānai …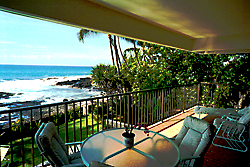 This lovely oceanfront condo is available for vacation rentals.
This small, private 6-unit complex was designed by the award winning Oʻahu architect Vladimir Ossipoff. It incorporates many kamaʻāina (local) style features, such as screened full-length louvers throughout to provide great views and flow-through ventilation, a large lānai (veranda), and sliding glass doors and screens that completely slide back into a pocket to open up the entire living room to the lānai, beach and ocean.
This is a large 2 bedroom, 2 bath unit on the main street level, with a large oversize saltwater pool (no chlorine chemicals!) right out your back door. The seawall gate near the pool provides direct shoreline access to tide pools and our own little sandy beach, great for sunbathing or just watching the waves. Just north is a reef-enclosed "Turtle Lagoon" where green sea turtles ("honu" in Hawaiian) love to hang out, with a larger sandy beach and even more tide pools with all kinds of interesting sea creatures. An outdoor shower near the pool provides a convenient way to wash off the salt and sand from your feet.
A huge private lānai overlooks the pool and the ocean, with comfortable lānai furniture to seat four, plus two chaise lounges and a tea table. Relax and watch dolphins, whales, sea turtles and even an occasional manta ray while you sit back and enjoy a cool drink. We've even had a critically endangered Hawaiian Monk Seal visit our beach for several days.
Our home is fully furnished with everything you need, including a complete kitchen, linens and even beach towels!

Nonsmoking only. Smoking is not permitted inside, outside on the lānai, nor anywhere on the grounds. Hale Pōhaku is a smoke-free complex.

The view from the ocean …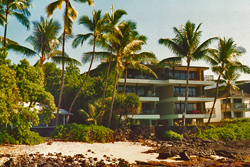 Features & Amenities:
Oceanfront with unobstructable view
Very private, only 6 units in complex
2 bedrooms (one king bed, one queen bed), 2 baths
Nonsmoking complex
Accommodates a maximum of 4 (adults and/or children)
Huge private lānai overlooks the pool and ocean
1,161 ft² living area, plus 9'6" x 25' (246 ft²) lānai
Ceiling fans in both bedrooms, the living room, the kitchen and on the lānai

Large oversize saltwater swimming pool immediately below the lānai on the ocean level, just out your back door
Large cabana/entertainment area around the pool with lānai furniture, tables, chairs and an entertainment/serving center with sink
Convenient additional bathroom and shower on the pool level
Shoreline access to tide pools and small sandy beach area right in front of the condo
Turtle Lagoon just steps to the north with enclosed reef and larger sandy beach, great for kids
Covered reserved parking space for our unit, plus 2 guest parking areas and some street parking

Fully equipped gourmet kitchen with all the appliances — built-in microwave, oven, Jenn-Air cooktop with grill, refrigerator and dishwasher
All kitchenware provided — pots, pans, dishes, silverware, place mats and napkins, dish towels, coffee grinder, coffee maker, blender, toaster, crock pot, rice cooker — even a hand mixer if you want to bake a macnut cake or our famous banana-nut bread with delicious local apple bananas!
Large pantry in kitchen
All towels and linens provided, including beach towels
Clothes washer and dryer in the unit
Ironing board and iron
Hair dryer in the master bathroom
Starter supplies are provided: bar of soap & roll of toilet paper in each bathroom, laundry soap for clothes washer, dish washing soap, soap & Jet dry rinse aid for the dishwasher, kitchen trash bags, coffee maker filters, new kitchen sponge, new roll of paper towels, and salt & pepper grinders with spices.
Color TV, cable TV hookup with basic cable service, DVD
Compact stereo system with AM/FM radio, CD, and a Universal Dock for iPod/iPhone playback
Telephone for local calls on the Island of Hawaiʻi
Internet Access: Broadband via cable modem (Ethernet cable provided) and secure WI-FI

We're conveniently located on the makai (seaward) side of Aliʻi Drive, 2 miles south of Kailua Village (see map). The village is where you'll find the local KTA, our favorite grocery, on Palani Road. Across the street from the KTA is the Lanihau Center, home of Longs Drugs, Buns in the Sun, and the main post office.
About 2 miles south of the condo is Kahaluʻu Beach Park, one of the most popular & easiest snorkel beaches on the island. It's especially handy with its parking, lifeguard, showers, rest rooms, picnic areas, snorkel rentals and other conveniences.
About 1/4 mile to the north is the open-air Aliʻi Gardens Marketplace, where you can browse for local produce, coffee, macnuts, and souvenirs.
The farmers market in the Old Industrial area downtown was discontinued, but they opened up the International Market Place about half a block north on the same street. The International Market Place has lots of little shops and things that are interesting to look around, but not much in the way of produce.
About 3 miles south is Keauhou Shopping Center, where you will find another KTA and Longs Drugs, as well as various restaurants and retail stores. On Saturdays, they have a real farmers market from 8-12 where all the produce sold must be grown locally by the farmers themselves. You will find some of the more exotic fruits available that you don't find anywhere else, and they actually know what the varieties are since they grow it themselves. You can find varieties of mango, avocado, rambutan, lychee, lilikoʻi, tree tomato and other tasty fruits and vegetables as well as many of the more usual fresh vegetables. Growers have wonderful fresh spinach, tomatoes, and tasty salad greens.
Please note that the Condominium Association does not permit us to accept pets. Nor does the Association permit grills or barbecues anywhere on the property due to fire hazards, smoke damage and the adverse affect on other tenants. We do have a Jenn-Air grill in our kitchen for your use, or you can use a portable barbecue on the beach. A copy of the Association Project/House Rules (MAR 2012)

is available in our unit and applies to all tenants, guests and visitors.
More Information: